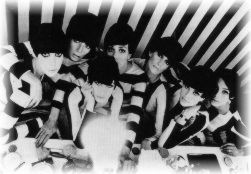 The cyberpad's all-girl swingformation bureau
---
This part of my site is a weblog, in other words a kind of online journal, with news of latest developments on these pages, comments on my latest purchases, films I've seen recently, and random thoughts. Hopefully this will become a regular feature, unless either you or me get bored...
Left: An orange-coiffed Mr. Gent hard at work on an issue of "Label", 1998.
---
Wilkommen, bienvenue, come on in...
Wednesday 13 November 02 - Read my reviews of "Strangers On A Train", "Casablanca" and "The Quatermass Experiment". Do it now!
Sunday 06 October 02 - Yeah baby, I'm back.
---