Monday 21 October 02
After years of procrastination in east Midlands, I escaped my recent past to move back home which is when I started creating this website. And, well, fuck me gently with a chainsaw, no end of old acquaintances are crawling out of the woodwork class and finding my site. One of my oldest friends from Milford Haven, Robert Robinson, emailed me from Bristol to update me on his whereabouts and pass the following comments on my site:-
May I say your pad is DELIGHTFULLY cheesy, cheesy as an old wino's knob if I may make you as wonderfully nauseous as I. The colour scheme, the 60/70's playboy man motif with the scantily clad not-been-a-maiden-for-some-years-now with the bee-sting tits. The Can-I-get-a-witness?-No?-Ok-then! font, the blobby cell-shaded stars....I too am glad to see Julie back in Hollyoaks because, here I must resort to male stereotyping, I'd shag her over any of the supermodels anyday....
One of my English Literature colleagues (and one-time halls of residence neighbour), Chris Browning has also been back in touch. He took the photo below and mentioned it on his page Common Swings:-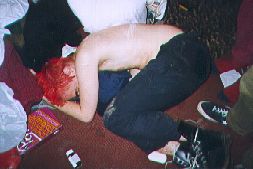 huzzah! my foot is famous! i was looking online for stuff to nick for my upcoming bonzos special and found old uni chum james gent's website at http://cyberpad.tripod.com/ and whilst perusing it i found this reminder of happy days of yore! YES! that IS my converse trainer! i may even have taken the photo! i believe this was the moment he was mumbling "jean jacques perrey" under his breath. bless
Which is nice. Yes, Chris took this photo of me sprawled out blind drunk in my room at Loughborough Uni. I had spent a long day on the lash after handing in my last Modernism essay. I also recently heard from Curly Clare Tomlinson, editor of Label magazine (1997-1998), whose frizzy visage can be found amongst the page of pix from our team social.
Latest bargain priced cultural trawls include The Limey, Sexy Beast and Gangster Number One in a DVD pack for twenty quid (good films!!!), a CD of the soundtrack to "The James Dean Story" by Chet Baker, Miles Davis's "Nerfetiti" and a hardback biography of the aforementioned Chet in the window of Oxfam for a tenner. Sweet! I also got hold of ex-rental DVDs of "The Others" and "The Royal Tenenbaums" (overwhelmed when I saw this film at Film Club the other week), only a tenner each. Bargain! Hoping I might find "Jay and Silent Bob Strike Back" and "Amelie" going cheap too...
Fave tracks right now: "Well Well Well" by John Lennon and the Plastic Ono Band, "My Wife" by The Who, "Harlem Shuffle" by Bob and Earl, "Tin Soldier" by the Small Faces and "Shapes of Things" by the Yardbirds.
---