Sunday 06 October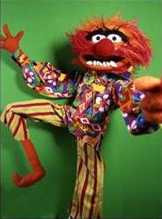 Well here we are again, it's been a while. I seem to have been weaned from my homepage activities - mostly devoting myself to frivolously spending beyond my means on DVDs and sale CDs. I have also rediscovered the genius of the late, great Bill Hicks. If you are not familiar with this guy, try and find any videos or CDs of his stand-up act you can lay your hands on. The guy was a really powerful comedian whose material mainly commented, humourously and knowledgably, on the farcical bullshit perpetrated in the name of politics, entertainment and marketing....and his stuff is even more topical now than ever. You'll have to see for yourself, don't take my word for it.
I also mourned the passing of another idol of mine, Marc Bolan, who died twenty-five years ago on September 16. All we got was a TOTP 2 special, which was admittedly cool. And the whole thing gave me my annual excuse to bore people about the spooky coincidences between Bolan's death and his song lyrics. Morbid, me? Come awwwwn!
What other world-breaking events have elapsed since we last met? OK, apart from the earth-shattering news that Hear'say split up because - can you believe this - the public are fickle and they were treated like puppets. You don't say.
As a fan of B-grade actors, and general sad person, I was worryingly delighted to see two such persons make a comeback on my TV screen. Jon Cryer aka 'Ducky' from "Pretty In Pink" can currently be seen in a sitcom on Paramount called "The Trouble With Normal" - seems to me sitcoms on Paramount is where every Brat pack actor goes to die (Caroline In The City, Spin City - never mind Michael J. Fox and Charlie Sheen, that's Cameron from "Ferris Bueller"!, Judd 'who ate all the pies' Nelson in Suddenly Susan, the list is endless). And Julie is back in "Hollyoaks"! Who? Yes, you know, the twin sister of the girl from "2 Point 4 Children". Julie was in it before the original cast was replaced by a load of Aryan supermodels. I can't decide whether I think she's cool because of her complete ordinariness, or because she looks a bit like my friend Lindsay. Probably best to discontinue this line of thought...
Lately I've been listening to The Who ("Tommy", "Who's Next" - the former is crap compared to the film version, the latter is a real grower), the Walker Brothers, "Voulez Vous" by Abba (I am Alan Partridge), and have rediscovered JJ72's debut album and Radiohead's "OK Computer", although as it happens this weekend I have been playing back-to-back two of my all-time faves, Sparks' "Kimono My House" and "Love and Dancing" by the League Unlimited Orchestra (see my page Rewind for more info on these gems). Books-wise, been filling my head with Plato, a novel called "The Madolescents", and a Cary Grant biog I found in the local second hand bookstore with all the dirt on his LSD experiments and rather suspect living arrangements with Randolph Scott.
Recently joined a film society, so I finally got to see "Amelie", and, yes, it IS that good. If you've seen the same director's previous films "Delicatessan" and the brilliant "City of Lost Children", it's not in the same vein but equally imaginative.
Finally, I also got round to watching two vids I'd not got around to seeing - Martin Scorcese's "Alice Doesn't Live Here Anymore", something of an anomaly in Scorcese's ouvre as it doesn't feature a single Italian-American hood in it (although Harvey Keitel appears in it); and "Badlands" starring a very young Sissy Spacek and Martin Sheen - great film this, based on the Charlie Starkweather killings and an obvious inspiration for "True Romance" and "Kalifornia". It also has a nice minimal soundtrack with a beautiful piece of music by Erik Satie used in it.
And finally, my brother Adam married his fiancee Emma on September 24th. Our Emma walked down the aisle to the sound of "Slip Into Something More Comfortable" by Kinobe. How cool is that? Hopefully I will be able to share some pictures of the ceremony and the stag night the week before.
Go now, children. I feel weary and must rest.
---