Tuesday 20 August 02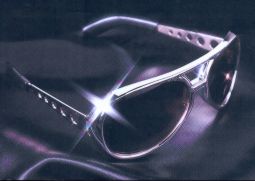 I've come over a bit garrulous for today's entry, so bear with me...
Just returned from spending a week with Alison, an old friend from my English course, who lives Up North. Here was I expecting clogs, flat caps and whippets...I was pleasantly surprised by what Northumberland had to offer. A gorgeous coastline, some great shops (I managed to blow my wages on shirts, CDs and DVDs in the best retail outlets of North Shields, Gateshead, Newcastle and Tynemouth)...not too impressed by the nightlife though, but that's another story. Cultural highlights included seeing an exhibition of props from SUPERGRAN at the 'Land of Green Ginger' in Tynemouth, and the carpark that Michael Caine threw Alf Roberts from Corrie off in "Get Carter". Cool!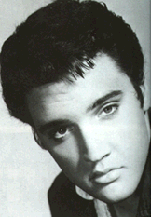 Came back with a shedload of bargain bootie. As it was The King's birthday on Saturday, decided to add some Elvis CDs to my collection. Well, OK, I did used to own an Elvis CD but it was a bootleg called "Greatest Shit" which featured his worst songs from his films and exceptionally hilarious it was too. Apparently it was compiled purely to wind up Elvis purists, which cannot be a bad thing!
I got his first two albums (they have the very original titles "Elvis Presley" and "Elvis"!), plus "From Elvis in Memphis" ("Suspicious Minds", "In The Ghetto", etc, quality!) and "Burning Love", a wicked collection of live and studio stuff from 1972. A lot better than what I had been led to expect of his 1970s output, but then how can you fault an album that includes "Always On My Mind"!
Other CDs I treated myself to were "Disco" by the Pet Shop Boys (seminal 80s mix album, not as good as the League's "Love And Dancing", but what is?); "The Best of Sly and the Family Stone" which is absolutely shit-hot as any fule know; and Bruce Springsteen's debut album "Greetings from Asbury Park, New Jersey" - I knew two songs, "Growin' Up" and "It's Hard To Be A Saint In The City", from Bowie's cover versions, needless to say quite different from the originals! It's quite different from "Born In The USA", which is the extent of my Bruce knowledge, in fact it's quite Dylanesque lyrics-wise, so (like Elvis the Pelvis) he's someone I'd like to be more informed about...
Along the way, I also picked up another Kinky Friedman novel, "Armadillos and Old Lace", I cannot recommend the Kinkster enough - go to Amazon and snap up as many of his books as you can. Your funnybone will love you for the rest of your life. Also tracked down a 'dictionary of hipster slang' called "Straight From The Fridge Dad". Be sure to expect a smattering of beatnik jive talk in future weblog entries. It's far-outsville, daddy-o!
I also enlarged my miniscule DVD collection with "Hedwig and the Angry Inch", "Night of the Living Dead" (the original black and white version, for some reason the colourised version is full priced!) and Dario Argento's mysoginistic* arty gore shocker "The Stendhal Syndrome". None of these cost over a tenner. Until now, the only DVDs in my collection have been "The Five Doctors", "Labyrinth" and "The Doll Squad". "Doll Squad" is a no-budget action film from 1972 with Tara Sutana from "Faster Pussycat, Kill Kill!". The DVD was £3.99 on Blackstar and shamelessly packaged as a "Charlie's Angels" spinoff and I can never resist shameless marketing opportunism on a shoestring. I've been loath to rebuild my video collection in digital format but can feel myself being won over by the relentless grinding wheels of the twenty-first century... I've already started filling up my hitlist in Blackstar! God help my bank manager!
I took some photos while I was away and these will be joining some taken on my schoolfriend Clare's 25th birthday the other week when I next update the gallery - I apologise in advance for any compromising images that might appear!
The image at the top of this page comes from My Elvis Blackout, a very VERY EVIL book of short stories by Leicestershire author and sick puppy Simon Crump. It includes a scene in which Elvis and his Memphis Mafia cronies murder Chris De Burgh for singing "A Spaceman Went A Travelling", and later run over Barbara Cartland. So, my kind of book then! Funnily enough, it's the second fictional Elvis book I own - years ago, I bought one called Elvis - The Life He Should Have Lived, in which he models himself on Dean Martin, develops a Batmam obsession, and rather than dying in 1977 revives his career by recording "Brand New Cadillac" with The Clash. A good read if you like these 'postmodern' fictionalised biographies, not to mention the idea of Elvis rounding off one of his Vegas shows by having Elvis clones come on singing "Bang Bang (My Baby Shot Me Down)" and assassinating his manager Colonel Tom Parker onstage. God, I should go to bed, I feel another idea for a page coming on. Nanny...
* I'm sure that's not how it's spelt, but it's late, OK?
---