JOE DALLESANDRO - SUPERSTAR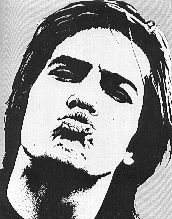 "People would adore Mick Jagger, both male and female, for a look or an attitude, and that's what I liked about the period I grew up in, that a man could say he liked both, that he appreciated both the look of a man and the look of a woman without being stereotyped" - Joe Dallesandro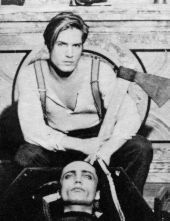 Left: In "Blood for Dracula" with Udo Kier.
Joe Dallesandro was discovered by Andy Warhol in the mid 1960s and went from being the doorman at the Factory (Warhol's Greenwich Village studio) to becoming the biggest of the 'Warhol Superstars', appearing in Paul Morrissey's trilogy "Flesh", "Trash" and "Heat". His naturalistic acting style and uninhibited attitude towards nudity made him stand out among his more affected, extroverted transvestite co-stars. He was immortalised in the song "Walk On The Wild Side", Lou Reed's paean to the Factory days and only top ten single. Not bad for a juvenile delinquent and one-time atheltic model!
Starring as 'Joe' (his famous tattoo - a DIY job from when he was in a boot camp for juvenile delinquents - meant he usually had to play a character called Joe or be filmed from particular angles to conceal his upper right arm!), these films provided a glimpse of the underbelly of New York street life. "Flesh" dealt with male hustlers far more effectively than Hollywood's "Midnight Cowboy" whilst "Trash"'s unglamorous and blackly comic look at the life of people who use a needle like most people use a toothbrush predated "Trainspotting" by two decades!
Morrissey and Dallesandro went to Italy and filmed two cult horror films back to back, both casting Joe alongside the equally androgynous Udo Kier: "Flesh for Frankenstein" and "Blood for Dracula".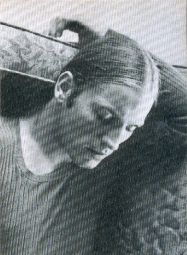 Right: A tired Joe on the set of "Heat"
Unlike his co-stars, whose freakiness meant that their chances of crossing over into mainstream cinema were minimal, Joe Dallesandro possessed genuine star quality. Sharing the physicality and mumbling broodiness of early Marlon Brando and inarticulate vulnerability of James Dean, Dallesandro was the '70s' only worthwhile successor to those maverick stars of the 1950s. His mixture of masculine and feminine qualities made him an icon of the gender-bending early 1970s, when bands such as the New York Dolls were breaking down gender roles. The three Warhol films often featured Joe appearing naked, which not only challenged other gender stereotypes - the masculine hang-up of male nudity - and inhibitions, but also broke the taboo of male nudity in films, years before Ewan McGregor began showing his tackle on a regular basis! (The film "Flesh" also has the dubious distinction of being the first non-pornographic film to feature a hard-on!)
In this respect, the films that Joe made with Paul Morrissey were groundbreaking, in re-defining preconceptions of masculinity. Although his characters are street-smart, physical hustlers, he is invariably treated as a 'lust object', passively going through sexual encounters with men and women, and his understated performances (a brilliant contrast to the exhibitionistic antics of his co-stars, and often more telling in their economy) mean that he becomes a blank canvas for people to project their own fantasies upon, and as such is only defined in other people's terms. The camera frequently lingers on Joe's statuesque body, fetishizing it in a way more common with the female figure.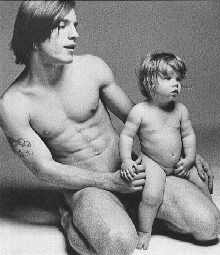 Left: Is it an Athena poster? No, it's Joe posing with co-star Geraldine Smith's daughter to promote "Flesh" in Europe.
His good looks means he becomes something of a trophy - in "Heat" mother and daughter Sylvia Miles and Andrea Feldman continually fight over his body (often literally) - and watched in sequence, his hustler characters come to represent a meditation of the currency of looks in society, and what happens when something so transient and impermanent is your stock and trade. In "Flesh" his fresh-faced looks are in sharp contrast to the elderly trick who gets Joe to enact classical poses for his sketchbook; by the time of "Trash" two years later, drugs have eroded his stud-like qualities (Geri Miller asks, "What happened to you Joe, you used to be dynamite?" when even her nude go-go dancing act fails to get him horny!); whilst in "Heat" - a parody of "Sunset Boulevard" - he plays a young guy who used to be a child star in a long-running Western series, using Sylvia Miles' past-it actress to try and get back into Hollywood.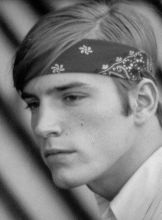 Right: A still of an innocent-looking Joe from "Flesh".
Dallesandro broke away from the Factory to pursue a career in 'legitimate' cinema, appearing in several European films and becoming a film star in Italy, appearing in a variety of films, alongside a diverse rang of actresses including Anita Ekberg, Sylvia Kristel and Jane Birkin. The films he made during this period vary wildly in quality, from the tacky "Killer Nun" and the soft porn of "La Marge" to the metaphysical "The Gardener", with Joe in the title role, and the surreal "Black Moon", directed by Louis Malle. Dallesandro always gives a dependable performance, even in the most trying of circumstances, and his time in Europe helped expand his range and experience more about film-making outside the Factory.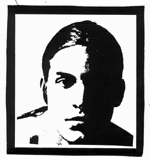 He returned to America in the 1980s and has made several appearances on television and film to the present day. Although he hasn't had the big roles he deserves, he can be seen in "The Cotton Club", "Guncrazy" (as Drew Barrymore's white trash stepdad) and - most memorably as a redneck bible-basher in John Waters' brilliant "Cry Baby". He also made a brief cameo in David Bowie's promo video for "Never Let Me Down", directed by Jean Baptiste Mondino. Joe Dallesandro remains an icon of underground cinema, an actor whose stunning looks and unique sex appeal "forever changed male sexuality on screen" (John Waters' words) and opened the door for the sensitive grungy rebels of the 1990s such as River Phoenix and Johnny Depp.
---
Quotes about Joe...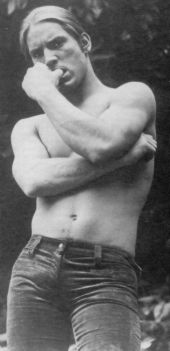 "In my movies, everyone's in love with Joe Dallesandro."
- Andy Warhol
"All the big sex symbols have last names ending in 'o' - Garbo, Harlow, Monroe, Brando, Dallesandro."
- Paul Morrissey
"His physique is so magnificently shaped that men as well as women become disconnected at the sight of him"
- Vincent Canby, 'New York Times'
"Harry Dean Stanton, John Holmes, John Belushi, John Cassavettes, Joe Dallesandro, River Phoenix, Keanu Reeves, Gus Van Sant, Alex Winter. They may look like mechanics, but they have the soul of poets."
- Galaxy Craze, 'Details', 1991.
---
Posters and magazines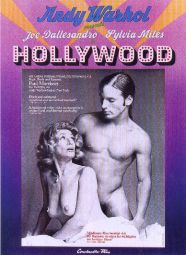 The revealing Francesco Scavullo picture of Joe Dallesandro and Sylvia Miles used to promote "Heat" in Europe, where it was retitled "Hollywood".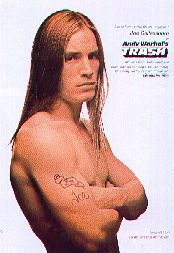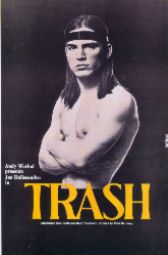 Two poster designs for "Trash" using slightly different images of Joe, with and without tattoo!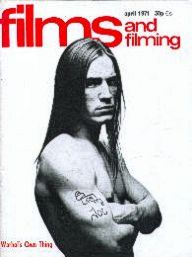 Two classic "Films and Filming" covers, for "Trash" in 1971 and "Heat" in 1972.
---
Joe with his co-stars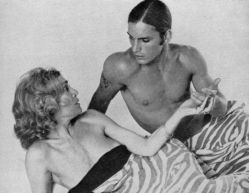 With Sylvia Miles in "Heat"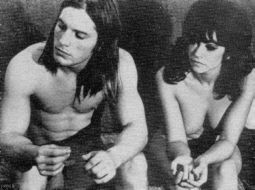 With Geri Miller in "Trash"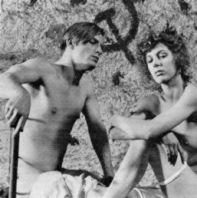 With Stefania Casini in "Blood for Dracula"
---
Joe-pourri

From the back cover of Michael Ferguson's book "Little Joe Superstar".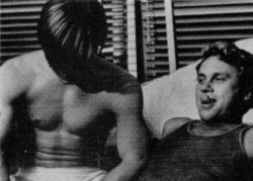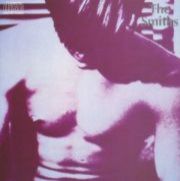 Joe in a scene from "Flesh", and the same picture (with Joe's male friend cropped off) on the cover of the Smiths' debut album.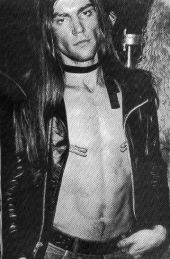 Joe flirts with the glitter-rock look for a party at Max's Kansas City in 1973.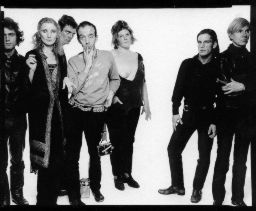 Richard Avedon's portrait of the Factory that inspired Calvin Klein's "CK One" advertising campaign. That's Joe on the right, standing next to Andy Warhol.
L to R: Gerard Malanga, Viva, Paul Morrisey, Taylor Mead, Brigid Polk, JOE, Andy Warhol.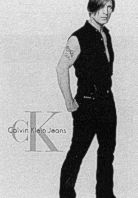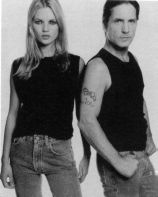 Coming full circle, Joe advertising Calvin Klein, solo and with Kate Moss.
---
Images taken from issues of Films and Filming from between 1969 and 1974, Film posters of the 70s edited by Tony Nourmand and Graham Marsh (Aurum Press, 1998), The Warhol Look edited by Mark Francis and Margery King (Bulfinch Press, 1997), and High On Rebellion by Yvonne Sewall-Ruskin (Thunder's Mouth Press, 1999).
Little Joe Superstar: The Films Of Joe Dallesandro by Michael Ferguson (Companion Press, 1998) is an essential guide to Joe's life and career. ISBN 1889138096
Joe Dallesandro has his own site, The Official Joe Dallesandro Home Page
---