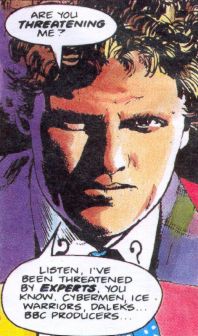 Hi there, my name's James Gent and welcome to The Space Hopper of Rassilon. There are some very clever Doctor Who web sites with lots of flashy Javascript and stuff around. This isn't one of them! Instead, this is my own tribute to Doctor Who, a programme which I was very fortunate to grow up with and gave me some great memories during my childhood. I fell out of the loop during the McCoy period (I should have known better), as the dubious joys of puberty took hold.
Not long after leaving University, I discovered the joys of cable TV and got right back into Doctor Who as I realised that I enjoyed the series as much as ever! I've even buy Doctor Who Magazine regularly for the last two years. I haven't really got into the new fiction titles published by BBC Books, or Big Finish's audio adventures, so these pages are strictly 'old skool' Who.
These pages are my personal tribute to the actors, writers, designers, producers and directors that created 'the greatest show in the galaxy', not least two recent departures from this world: John Nathan-Turner, producer 1980-1989, and Douglas Adams, script editor 1979.
I hope you enjoy looking at this site as much as I enjoyed creating it. Make sure you also pay a visit to my personal homepage, James's Swinging Bachelor Cyber-Pad. If you have any comments, please e-mail me. Stay tuned!
---