THE FIRST LADIES OF BRITCOM
Ladies and gentleman, it's time to pay homage to the suburban queens of British comedy. Class-conscious social climbers, shameless flirts, upholding the values of the nouveau riche and the bourgeoise, these glamorous gorgons live in an open-plan world where the drinks cabinet is well-stocked with gin, a pack of Superkings are always to hand, and they have mastered the art of making the husband think he's the master of the house. But we know who's really running the show don't we?
---
MILDRED from MAN ABOUT THE HOUSE and GEORGE AND MILDRED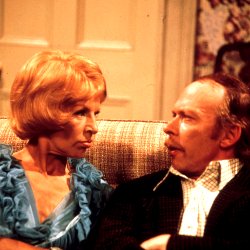 George and Mildred started life as the landlords of those crazy students in "Man About The House" but it was with the spin-off series "George and Mildred" that they truly came into their own. They had moved to suburbia, and each episode was a tragi-comic farce illustrating with Fawlty-esque frustration Mildred's attempts to fit in with the neighbours, and her pig-ignorant husband George's effortless knack of showing her up. Paul Baker, an old friend of ours, captures the show's appeal and describes Mildred's character to a tee on his website, so allow me to quote him verbatim: "Mildred was a Dragon Lady with a heart of gold. She was incredibly ambitious - an out-of-her-depth Lady MacBeth in Suburbia; putting on a posh voice for the neighbours, but never quite capable of keeping up the airs for long, especially as she had to contend with George a lazy, boozy, gambling idiot with a penchant for "get rich quick" schemes and skivving work. Some of the more amusing moments of the series occurred when Mildred got a chance to explore her sexuality - although this always ended in frustration too; George no longer found Mildred attractive and was always fending off her desultory advances." Mildred Roper is the ultimate social-climbing suburban queen. Yootha Joyce - you are sorely missed!
---
MARLENE from ONLY FOOLS AND HORSES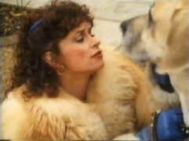 Originally an unseen character referred to in a similar style to Arthur Daley's "'er indoors" or Mrs Columbo, the other half of spiv-made-good car salesman Boycie, Marlene is one of the most underrated characters in one of the most overrated sitcoms. Marlene is the kind of woman for whom money can not buy taste. A real old-time Babycham and menthols kind of girl, with a voice like a bitter lemon and a wardrobe full of animal print jackets. Your mum probably has at least one friend or neighbour a bit like Marlene, slightly racey and fond of a wee dram. Marlene is clearly cut from the same cloth as Del Boy, and her and Boycie clearly possess the dosh-filled lifestyle that has always been frustratingly out of reach for the Trotters - ah, if only things had been different, eh Del? Marlene and Boycie made an utterly hilarious mini-comeback in a series of specially filmed adverts for UK Gold, which were much funnier than the interminable OF&H Christmas 'special'. But one question remains unanswered: Is Marlene Victoria Beckham's mum?
---
SYBIL from FAWLTY TOWERS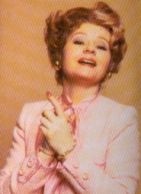 What can you say about this amazing creation, forged by the pens of John Cleese and Connie Booth, the acting skills of Prunella Scales and the creativity of the BBC wig department. We never actually see her doing any work in the conventional sense - her main task seems to be to gossip on the 'phone ("OOh I know"), flirt with Nicky Henson, shop, play golf (wearing the most amazing blue checked flares, clogs and windcheater) and henpeck Basil. She also has a hairstyle that appears to be twice her body weight.
---
BEVERLEY from ABIGAIL'S PARTY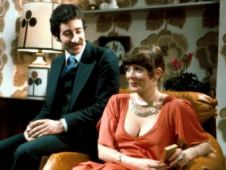 Although Beverley Moss's only TV appearance was in a one-off comedy/drama broadcast in 1977, she made an indelible impression on the national psyche, and subsequent stage adaptions of this play have always struggled to escape from the shadow of Alison Steadman's definitive portrayal. Beverley doesn't know much about art, but she knows what she likes. Her disastrous dinner party is an excuse to humiliate her husband, bully her guests ("Do you want another top-up Sue, 'cos Ange is having one...") and probe into their private life, flirt with her neighbour's husband, expound her hypocritical and snobbish opinions on life to her husband's (equally snobbish) embarassment. The epitome of status-obsessed nouveau riche in the 1970s, she takes unashamed delight in showing off her downstairs toilet and rotisserie. The biggest monster from the suburbs since Shelley Winters in "Lolita"
---
MARGO from THE GOOD LIFE
Aah, Margo! La grande dame of Surbiton. For me, The Good Life wasn't about the perky self-sufficiency larks of Tom and Barbara Good, but the social oneupmanship and "Daily Mail"-style moral superiority of their next door neighbours. Sporting an array of hairstyles and Biba frocks, a strange combination of "Color Me Barbra"-era Barbra Streisand and Margaret Thatcher, Margo never uses one word when fifty will do (She loosens up at Christmas and greets the Goods with a fulsome "Yuletide felicitations Tom and Barbara!"), is every inch the head of the house and like Sybil and Beverley, her husband is basically a cashpoint in slacks. Unlike those unfortunate couples, however, Jerry has opted for the path of least resistance, so long as he can enjoy such guilty pleasures as smoking cigars and eating takeaways on Margo's nights at the operatic society. Deep down Margo is a thoroughly decent person, when she overcomes her initial prejudice at the Goods' cranky lifestyle - at the end of the day, the Goods usually have the Ledbetters' resigned but unconditional support - and it is a source of constant frustration to herself that she cannot enjoy a joke and generally lighten up! These touchingly human qualities put Margo several billion steps above the loathsome caricature Hyacinth Bucket in the godawful "Keeping Up Appearances", and such endearing details means we feel comfortable laughing at Margo's terrible pretensions and attitudes because there's probably a little bit of Margo in all of us!
---