ODDS AND SODS
Photos that I really like but didn't fit into any of the other sections...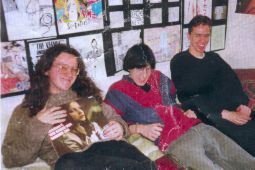 Paul Ruane and Andrew Rees and me in my room in halls, sometime in early 1996, before we all went through through various tonsorial transformations!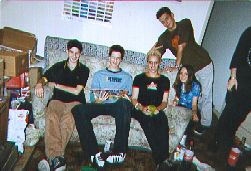 Student squalor at William Street. A typical scene at my first student house, on a Friday evening sometime in the second year. Also present: Chris Rees, Chris Randall, Mat Mabe (flicking the V's), Ginetta de Niro, and Bill's Leg.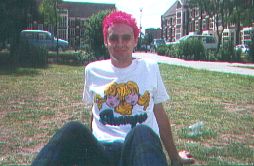 Me at the height of my Captain Trash phase, complete with flamingo pink hair courtesy of Crazy Color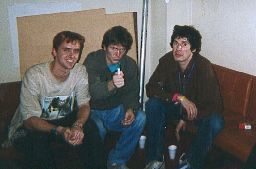 Me with Huw and Gruff of Super Furry Animals, best band in the known cosmos. This is backstage at Wolverhampton, when me and Mat interviewed them for Label.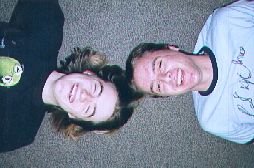 Ladies and gentlemen, we are floating in space... Not quite - a picture of me and fellow music editor Dan Mewett taken for Label magazine's end of year issue.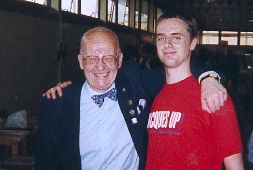 Me with TV legend Michael Sheard, aka 'Mr Bronson off of TV's Grange Hill' (and several Doctor Whos including the classic Pyramids of Mars) This was taken at the Summer '98 TSR Science Fiction & Fantasy Convention held on campus, where me and Toby Jones interviewed Michael and various Star Wars cast members for Label.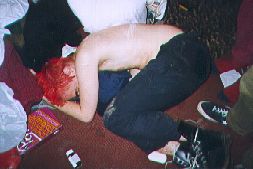 Oh dear. This is me after a drinking session celebrating finishing my Modernism essay. I woke up with carpet burns(?!), 'I love Dale Winton' written on my back in shaving foam, and all my posters upsdide down. Ah, the follies of youth! Note the leopardskin rug in the background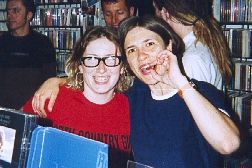 Sara and Alison at the Left Legged Pineapple, my favourite record vending establishment.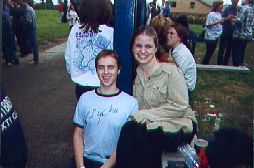 Me with Clare Wills on the last day of Uni.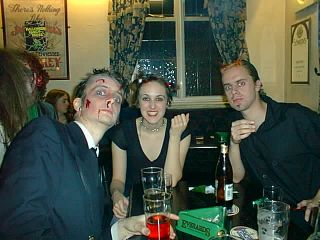 Halloween 1999 at the Three Nuns. Darren is a zombie airline pilot, Claere seems to be doing a Winona Ryder in Beetlejuice thing, and that's me as Satan with dyed red 'horns' (my fringe waxed into two spikes!).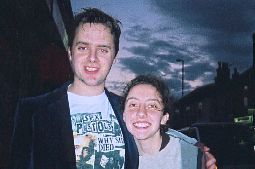 Me with fellow Milfordian refugee Faith Brown,outside top-notch chippy the Trawlers Catch