NOISE ALLOYS!
The saga of Lou Reed and Metal Machine Music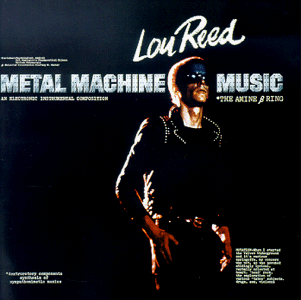 "They should have put a warning sticker on it... Sounds like: static on a car radio. Recommended cuts: none" - Lou Reed
Rock babylon has seen numerous acts of commercial suicide - from the Beach Boys' unreleased LSD epic "Smile" (later sanitised and released as "Smiley Smile") to the 'this is proper music' clevercloggery of Radiohead's last two albums - but, in terms of a major artist single-handedly destroying his fanbase at the height of his commercial stock, Lou Reed's "Metal Machine Music" stands head and shoulders above the rest. "Metal Machine Music" is a double album featuring four sides of electronic feedback, each side exactly 16 minutes and 4 seconds long, is one of those albums many people name-check but hardly anyone has actually heard. Hardly surprising, an exec at Reed's label RCA described it as "fuckin' torture music!". The story of how this beast of a record, the soundtrack to a techno-Sadean nightmare, came to be is one of rock's most fascinating and fabulous tales of excess and bitterness, an unbeatable act of career sabotage, and the ultimate punk statement.
In 1970, Lou Reed split up the Velvet Underground - although they became one of the most influential alternative rock bands ever, during their short career none of their four groundbreaking albums reached any higher than 199 in the Billboard charts and members dropped like flies with each album. After a period of 'self-imposed exile' in Coney Island, and a patchy solo debut album, Reed bounced back with the help from uberfan David Bowie, as a glam rock icon with the "Transformer" album and its hit single "Walk On The Wild Side".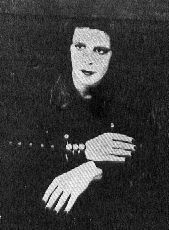 What happened next is a fabulous tale of a modern-day Faustian pact between rock star and record company. Having reinvented himself as a bona fide solo star, Reed wanted to make the first epic of his career - "Berlin", an unrelentingly depressing album about a doomed love affair in the then-divided city between a speed freak and a prostitute who kills herself in the bath after her children are taken away. A morbid, unflinchingly harrowing album, "Berlin" was too much for RCA, whose recent bestsellers included "The Sound of Music" and The Archies' "Sugar Sugar". It certainly proved too much for the critics, who didn't write reviews so much as death notices. Try the following for size:-
"A gargantuan slab of maggoty rancour...", "the most naked exorcism of manic depression ever committed to vinyl", "a distorted and degraded demimonde of paranoia, schizophrenia, degradation, pill-induced violence and suicide."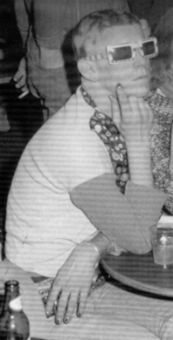 Despite the lack of a teenybop-friendly sequel to "Walk On The Wild Side", RCA released the record, with the provision that he gave the label an 'FM radio' album of live favourites and another glam-style studio album. Reed duly complied, becoming the 'Rock'N'Roll Animal', donning a S&M leather boy look - black leather, studs, cropped hair - and playing the schlock-rock to the hilt as his band cranked out glam-metal versions of Velvets song. Reed became a grotesque self-parody, some nights so high that his roadies had to carry him on and offstage, simulating shooting up with a mike flex and needle during "Heroin". The "Rock'n'Roll Animal" album went on heavy rotation on 'album rock' radio stations and sold by the shedload, and RCA milked the outtakes for a second LP, "Lou Reed Live" - although Reed left in the sound of a fan screaming "Lou Reed sucks!" echoing from the speakers in the closing run-off groove! The following album Reed - or rather his producer, as Reed was too out of it to stand up during the recording sessions - knocked out "Sally Can't Dance", a tacky caricature of "Transformer" and a hideous self-parody. Tellingly, one of the songs was called "Ennui". The album was Reed's only US top ten hit, and received some of his best reviews. Reed could hardly conceal his loathing, snarling, "This is fantastic - the worse I am, the more it sells. If I wasn't on the record at all next time around, it would probably go to number one ... I hate that album. Sally Can't Dance is tedious. Could you imagine putting Sally Can't Dance with your name on it? Dying my hair and all that shit? That's what they wanted that's what they got. Sally Can't Dance went into the top ten without a single, and I said, 'Ah, what a piece of shit.'"
By mid-1974, Lou Reed could be found in Max's Kansas City, cadaver-thin, pallid complexion, sporting cropped blond hair with Iron Crosses shaved into the sides. Journalist Nick Kent recalled, "I've never seen a man so utterly paralysed, so completely devoid of life while managing to keep breathing, as Reed had looked that night." During their conversation, Reed summed up his current situation: "...It depends on boredom... And tension. Getting interested, y'know, in things after you get things settled. Getting involved again... Not being bored. Because when I get bored...uh, funny things happen."
No question, Lou Reed was bored. And funny things were gonna happen. So it was that he became determined to hammer the last nail into the coffin of the 'rock'n'roll animal' and shit on the middle America teenagers that bought "Sally", the critics that panned "Berlin" and the label that wanted another "Transformer".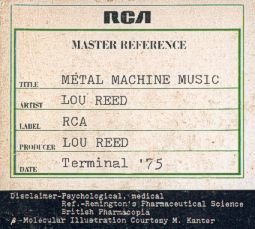 What he created featured no glam-shlock songs about transvestites, junkies and make-up for thrill-seeking teens to scare their parents with. With a guitar, a bank of effects pedals and a mixing desk, Reed created the most inhuman-sounding album ever made. Exactly sixty-eight minutes of screaming, grating, roaring pure white noise that sounds like World War Three, subtitled 'The Amine ß Ring - An Electronic Instrumental Composition', and mischeviously packaged in a gatefold sleeve depicting Reed onstage in leathers, shades and peroxide crewcut as if it were the rock'n'roll animal's latest live offering. The Velvets had dabbled in feedback and noise on "White Light/White Heat", but they were an underground band with nothing to lose. Reed was currently a solo star at his commercial peak.

As an exercise in aural aggravation, it takes no prisoners. In a neat trick previously used on the Velvet Underground flexidisc "Loop", the final side of the record is cut with a closed groove, meaning the listener has to get up and switch off the record to stop the relentless sonic attack! Reed loved this: "It's the only record I know that attacks the listener. Even when it gets to the end of the last side it still won't stop. You have to get up and remove it yourself. It's impossible to even think when the thing is on. It destroys you. You can't complete a thought. You can't even comprehend what it's doing to you. You're literally driven to take the miserable thing off. You can't control that record."
Interviews on 'Metal Machine Music' suggest that creating and releasing this atonal atrocity was the biggest highlight of his '70s career, cackling with malevolent glee at having pulled off such an audacious fast one. Lester Bangs: "Just imagine that wired little weasel, marching through the offices of one of the biggest media conglomerates in the world with his machine tapes in his hand, not just confident but downright cocky that what he had here was the greatest masterpiece in musical history. Lou took Metal Machine Music straight to the top, to Kenneth Glancy, president of RCA Records, and worked his way down from there..." Biographer Victor Bockris recounts, "On getting home he told friends he had to run to the men's room, after presenting this highly unusual product to the RCA people, in order to explode with laughter."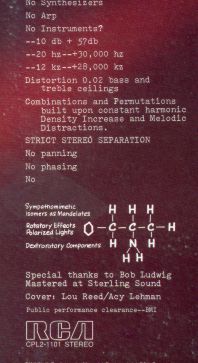 RCA execs didn't know what they were supposed to do with the record, except that they were contractually obliged to release it as Lou Reed's latest album. They tried sneaking it out quietly on their 'Red Seal' classical label, but Reed nipped that plan in the bud. A Quadrophonic mix was also released, and it even appeared on eight-track cartridge. Funnily enough, with its four programmes of equal length and continous loop, "Metal Machine Music" is the only album custom-made for the 8 Track format!
As mentioned before, the sleeve was designed in the style of a live album. Doubtless this would have led unsuspecting consumers to purchase the album expecting another "Rock'N'Roll Animal" - presumably something Reed intended, as the back cover described the content as "Rock orientation, melodically disguised, i.e. drag."
Even if the musical content is indigestible, the sleeve continues the album's raison d'etre as a blatant 'fuck you' to its intended targets. More 'drag' appeared in the form of pseudo-technical jargon on the credits - which Reed copied from a hi-fi magazine. "I made up the equipment on the back of the album...It's all bullshit."

The inside gatefold, an essay entitled 'Notation', is worth the purchase price on its own. A hilarious statement-cum-essay providing a few hints as to where Reed's head was currently at. It begin by reinforcing the ethic behind his work since the Velvets, that had been obscured by the glam posturing -"...my concern was not, as assumed...the exploration of various 'taboo' subjects, drugs, sex, violence. Passion - REALISM - realism was the key." Drug references and the deadpan wit of the speed-freak hinted at Reed's chemically altered state of mind - the album was aimed at serious users, "for those whom the needle is no more than a toothbrush", calling it "a gift, if one could call it that, from a part of a certain head, to a few others." The front cover contained references from Remington's Pharmaceutical Science and British Pharmacopia. That the record was a reprisal for the commercial failure of "Berlin" was evident in Reed's wistful comment, "I'd harbored hope that the intelligence that once inhabited novels or films would ingest rock. I was, perhaps, wrong.", before joking, "This is the reason Sally can't dance - your rock'n'roll animal."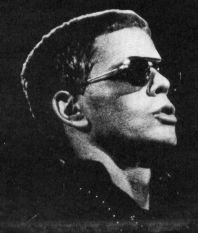 Unsurprisingly, the album's release in Reed's home country was like a bomb exploding. RCA's British division didn't give the album a domestic release, wisely importing a handful of copies. Reed had anticipated the cries of critics and fans being ripped off in the album's liner notes, with an unapologetic non-disclaimer: "Most of you won't like this, and I don't blame you at all. It's not meant for you... For that matter, off the record, I love it and adore it. I'm sorry, but not especially, if it turns you off." In interviews after the album's release, Reed was similarly defiant. "I'm not gonna apologise to anybody! They should be grateful I put that fucking thing out, and if they don't like it, they can go eat rat shit. I make records for me."
The only other record recorded that year which came anywhere close to capturing the nihilistic fall-out of the glam era was "Metallic KO", the live album of Iggy and the Stooges's last show, which ends with the sound of beer glasses being thrown onstage as a bunch of Hells Angels' attacking the Mighty Pop.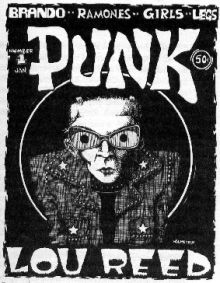 Like "Metallic KO", "Metal Machine Music" ended one era but bled into the beginning of another. Rather than wiping out his career, this musical suicide note placed him at the vanguard of a new musical movement which owed much of its existance to the Velvet Underground. The magazine which gave its name to the scene - Punk - featured Reed in its first issue, the cover featuring Legs McNeil's spot-on illustration of Reed as a metallic bug-man, and inside McNeil and editor John Holstrom spoke to Reed about MMM and other things.
The feature saved Reed from obscurity for a new generation. Says Holmstrom, "Metal Machine Music almost ended his career. He could have become another forgotten Elton John kind of person if we hadn't put him on the cover. Instead, he became the godfather of punk and it resurrected his career."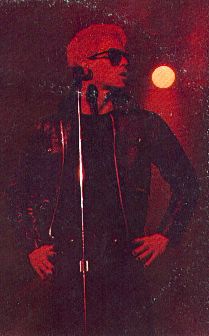 Holmstrom later said, "I saw Metal Machine Music as the beginning of the punk rock movement. It was the ultimate punk rock album. It was the greatest punk statement ever made. It was fuck you to the record company and everyone who bought it. It was, 'This is what I want to do the way I want to do it.' How can you get more punk than that? It was more punk than the Sex Pistols, the Ramones, everything that came out afterward. I think he meant it that way, and we treated it that way."
"Metal Machine Music" was a spectacular folly that paid off spectacularly. Its nihilistic sound perfectly coincided with the beginnings of punk, and made Reed more relevant than he had been since "Transformer". It kick-started an artistic rejuvenation, which reached a kind of peak with the brilliant "Street Hassle", his most coherent, compelling statement since "Berlin". At the height of this period as 'Godfather of Punk', Reed released a brilliant live album "Take No Prisoners", as close a companion to "Metal Machine Music" as you can get.
As with "Metal Machine Music", it's a warts-and-all statement of where Reed was at. "It's not only the smartest thing I've ever done, it's also as close to Lou Reed as you're probably going to get, for better or worse." Comparing "Take No Prisoners" to "Metal Machine Music", Reed said, "I wanted to make a record that wouldn't give an inch. If anything, it would push the world back just an inch or two. If Metal Machine Music was just a hello note, Take No Prisoners is the letter that should've gone with it."
During the '80s and '90s Reed cleaned up his act, got married, briefly reunited with fellow Velvet founder John Cale, and later the other band members, and now lives happily with fellow New York musician Laurie Anderson. There's been intermittent extreme close-ups of the Reed psyche - "The Blue Mask", "Magic And Loss" - but these have been few and far between, and the raw intensity of "Metal Machine Music" and "Take No Prisoners" only appears in flashes.
Meanwhile, "Metal Machine Music" - the creature that nearly destroyed Reed's career, and that his label didn't even want to release - still casts a long shadow from its obscure corner of rock history. RCA recently released a digitally remastered 25th Anniversary CD, something which must have given Reed a good hard last laugh, and its sonic scream and pure nihilistic rage can be heard in sonic terrorists and noiseniks like Atari Teenage Riot, Waterhouse, Skinny Puppy, Front 242 and Mogwai. Looking back, Reed is as unrepentant as ever about his walk on the wild side: "I've probably had more of a chance to make an asshole out of myself than most people, and I realise that. But then not everybody gets a chance to live out their nightmares for the vicarious pleasures of the public."
---
I used the following books for this article, all of which are excellent reads in their own right: Lou Reed - The Biography by Victor Bockris (Hutchinson, 1994), Waiting For The Man by Jeremy Reed (Picador, 1994), Please Kill Me (The Uncensored Oral History of Punk) by Legs McNeil and Gillian McCain (Abacus, 1997), and The Dark Stuff (Selected Writings on Rock Music 1972-1993) by Nick Kent (Penguin, 1994).
An excellent article on Metal Machine Music can be found at Miles O'Neal's Music Faves - Metal Machine Music complete with audio! Also worth a look is a very interesting article on the Metal Machine Music 8-track cartridge in 8 Track Heaven's Hall of Fame!
---