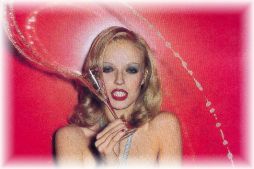 The ambassador's receptions are noted for their good taste... In this part of my cyber pad you can pour yourself a drink and do a bit of mingling - in other words, visit some of my friends' worthwhile websites!
---

For around twenty years now the fish faced shenanigans of the Mon Calamari known as Admiral Ackbar have been delighting we humans. Supposedly he was a great warrior and a mighty leader, but his sole contribution to the almost disastrous attack on the second Death Star was to spin round in his chair,waving his flabby hands about, shrieking "It's a twap! It's a twap!".
Yet, in one single day of sustained jestering, the Admiral managed to kill the emperor, destroy the evil empire and save Anakin Skywalker from the clutches of the dark side. Are these the actions of an idiot? We once thought that the power of the force lay with the jedi knights, but we can now see that the true power of the force lies with risible Vaudevillian comics like Admiral Ackbar. VOTE ACKBAR!
---

Mean, nasty, larger-than-life ladies who get all the best lines, look like they're men in drag (they often are), take no crap, push each other down staircases and pull off each other's wigs. Crazed sci-fi, suspense and horror movies that make your head hurt if you think about them long enough. Long lost relatives, women with big hair calling each other 'bitch', men with over-large nipples. Groovy parties, the switched-on in-set, cool 60s and 70s chicks and hep-cats, all-girl rock bands and *shock* experimentation with DRUGS! The "twilight nether-world of the homosexual" - vintage gay movies that got a bad rap when they came out a hundred years ago, rehabilitated here for your pleasure. Sitcoms and variety shows you've tried to forget - it's time to confront these repressed memories. Joan Collins in peril, Diana Dors having a hot flush, Alain Delon and the scary Judy Garland gallery... Go beyond the valley of the dolls with Paul Baker!
---
Some of the Corpses are Amusing

Mad, sad, nerdy, anoraky, no-friends trainspotter twats. That's what we are, apparently. And so is everyone else who's reading this. We've all committed the heinous crime of BEING INTERESTED IN SOMETHING. We should all get a life.
This is balls, obviously. You're wonderful. And we want you to stay that way. Apart from you people who learn Klingon. You're just strange.
---
The Simon Schimanski Solid State Web Pages

What kind of talk is that? Simon is a fellow Aquarian and Bowie/Eno fan. His favourite hobby is fishing things out of skips for their aesthetic brilliance, and when he is rich he will probably end up living in an overpriced 1930s Moderne house that should technically be condemned due to ferro-concrete corrosion or summat, "Because it's stylish". And this is his website...
---

And what is the purpose of these websites, created by individuals who certainly aren't famous enough to warrant a website? Well, I spose we have some misguided view that stamping our presence on the web imortalises us. Some of the even more deluded of us may even feel that we are indeed important enough to warrant our own website. Davey offers you this free therapy - you're not, get over it. Indeed, he is of these deluded individuals.
---

Another cyber-pad! Live and direct from the plush suroundings of Mr. Darren Pascoe's bijou bungalow in the heart of Essex suburbia. Crazy films, '70s sitcoms, a guided tour of Southend on Sea! So, pop on the kettle, slip into something more comfortable, put the cat out, put Radio Two on and stay awhile.
---
Adrian Cranwell-Child brings you this superb site, which will bring back memories of Saturday evenings if you are of a certain age - divided into two parts, Doctor Who, with a feature on a different story each month; and Classic TV which pays homage to televisual triumphs from Basil Brush to Blackadder. With Basil back at the Beeb, and strong rumours of the good Doctor about to re-materialise on TV in a new regeneration (it's the fortieth anniversary next year), what better time to recherche a few temps perdu?
---
Shameless self-promotion: Don't forget that I also have some other sites. Depending on your tastes you could do worse than visit The Spacehopper of Rassilon, Flogging A Dead Parrot or Vampires of Human Flesh...