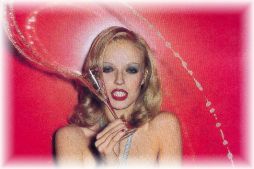 A nice Helmut Newton pic from a 1974 issue of "Nova"
The ambassador's receptions are noted for their good taste... In this part of my cyber pad you can pour yourself a drink and do a bit of mingling - in other words, visit some of my friends' worthwhile websites!

Admiral Ackbar for President
Hilarious site created by Alan Jones, who contributed mucho good stuff for my Monty Python fanzine "And Now For Something Completely Different" from 1992 to 1995.
---

Doll Soup
Paul Baker's very funny and smart home page full of interesting articles on B movies, sitcoms and soaps of yesteryear and other things cult, camp and kitsch.
---

Some of the Corpses are Amusing
A superlative (and somewhat controversial) site devoted to digging through the archives of comedy, featuring lost gems from the likes of Chris Morris and Monty Python that I'll bet you never even knew existed! Another site created by one-time contributors to "And Now For Something Completely Different", who wish to remain nameless!
---

Die Video Die! - Digital Exploitation
Horror, gore, splatter and exploitation films on laserdisc and DVD reviewed by two of the biggest film addicts that I know, Chas Dryden and Guy Harris from Loughborough.
---

MJ Simpson Homepage
Yet another fellow "And Now For Something Completely Different" whizzkid, MJ Simpson has gone onto much greater things in the realms of sci fi and horror film/TV journalism. This is his all-new home page which collects all his reviews and interviews for such mags as 'SFX' and 'Starburst'. He's writing Douglas Adams' biography, dontcha know?
---

The Simon Schimanski Solid State Web Pages
What kind of talk is that? Simon is a fellow Aquarian and Bowie/Eno fan. His favourite hobby is fishing things out of skips for their aesthetic brilliance, and when he is rich he will probably end up living in an overpriced 1930s Moderne house that should technically be condemned due to ferro-concrete corrosion or summat, "Because it's stylish". And this is his website...
---