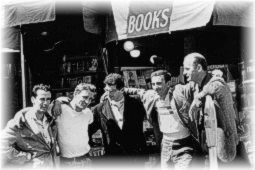 Jack Kerouac, Neal Cassady, Allen Ginsberg, Laurence Ferlinghetti and friends outside City Lights Bookstore
Reading matter? I think it does! I love books, and I buy them at a much faster rate that I read them - being an unreconstructed bargain hunter and unable to resist second hand bookstores and bric-a-brac fairs. My favourite books change from week to week, depending what books I've got on the go and what my current phase is. Take a random dip through my bookshelf...
My twenty favourite reads of all time, in no apparent order
Links to some excellent literary web sites
The coolest guys to have put pen to parchment...
Pulp paperbacks from the 1970s
Classic Doctor Who Target Books
A selection of classic Doctor Who paperbacks